CBP staffer sought to delete messages because they were "concerned" about discovery
A U.S. Customs and Border Protection staffer repeatedly inquired about whether deleted comments about certain CBP "cases" sent through the encrypted messaging app Wickr would be retrievable by IT specialists or via FOIA request, in what seems to be an effort to evade civil discovery, according to agency documents obtained by CREW via lawsuit. The staffer, a Labor and Employee Relations Specialist in CBP's Human Resources Policy & Programs Directorate, stressed the need to permanently delete the messages "because should the case go before a 3rd party, those chats would be discoverable."
While it's not clear exactly what cases this staffer is referring to—given their job title, it may be employee misconduct or similar employment-related cases—attempting to evade any kind of discovery is a serious violation. Deleting documents specifically to avoid discovery in court can be considered spoliation of evidence and can lead to court sanctions. A federal district court has ruled that a litigant's use of "ephemeral messaging apps" such as Wickr and Signal is by itself evidence of bad faith sufficient to warrant sanctions.
The CBP emails also raise serious questions about whether this attitude towards record retention requirements was more widespread in CBP. The responses to the employee's queries were focused on answering the technical issues, with no concerns raised about the legality of attempting to dodge discovery, at least in emails released to CREW as part of a FOIA lawsuit.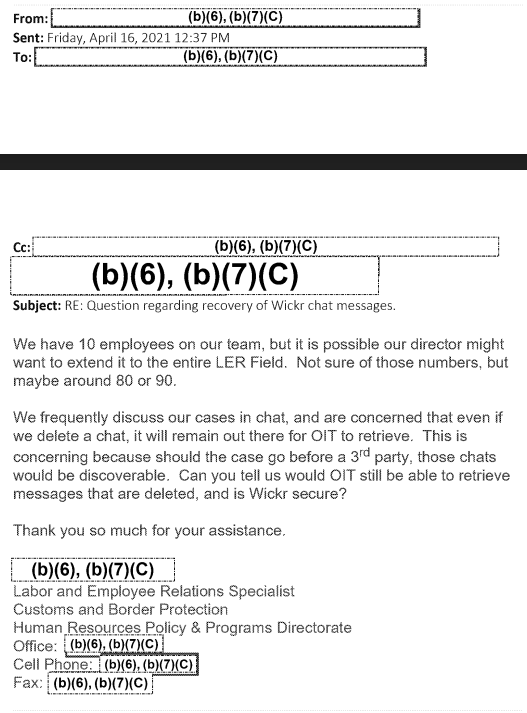 In April 2022, CBP's use of Wickr drew controversy from the National Archives and transparency advocates, including CREW, due to the app's controversial "burn on read" auto-delete feature. CBP as an agency has a history of failing to comply with recordkeeping laws, and using an app known for its ability to automatically delete messages raised serious red flags.
While the emails show that Wickr messages were stored in a database—even if the controversial "burn on read" feature was enabled or the messages were deleted—further messages indicate that it's not clear whether those messages were easily obtainable. Emails obtained by CREW indicate that as of April 2021, messages were being archived in the database, even if they were deleted, but there was no way to extract those messages from the database.
Regardless of whether all CBP's Wickr messages are properly saved and archived as the law requires, the messages obtained in CREW's lawsuit are consistent with a broader trend of CBP personnel deliberately evading record preservation requirements to thwart transparency and accountability.
Read More in Investigations