Erdogan-tied businessman granted access to Trump through donor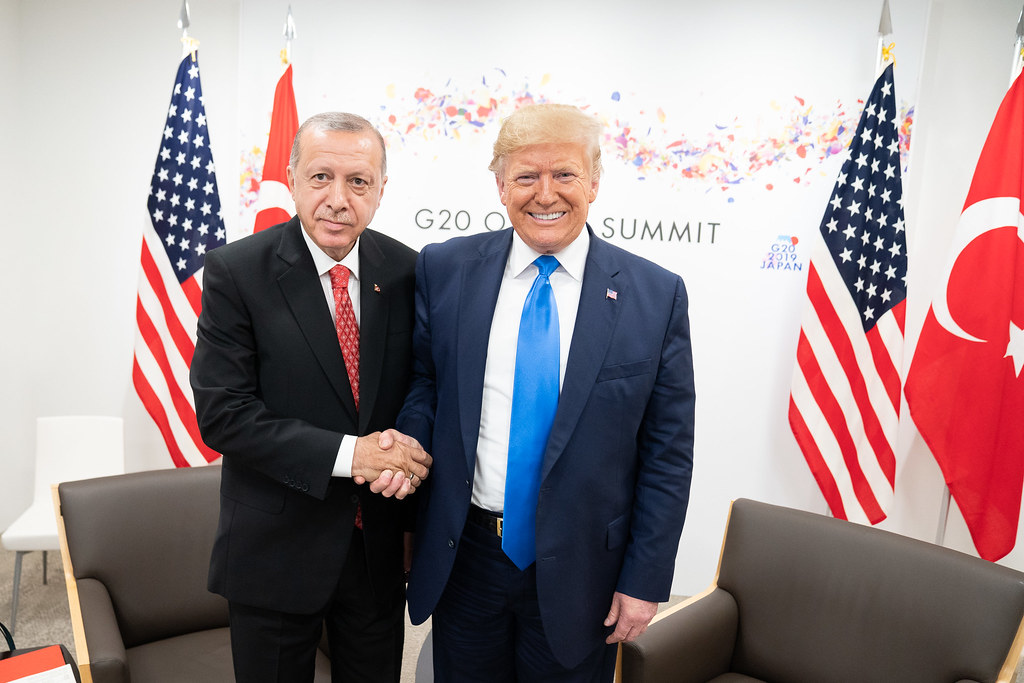 In January of 2017, an American businessman who appears to have no prior history of political contributions gave $1 million to both the Republican Party and President Trump's inauguration. In the days and months that followed, the donor's son was granted remarkable access to powerful political figures—including, at least briefly, President Trump.
A new review of campaign finance disclosures and Turkish press reports by CREW has revealed that this access extended further than has been previously reported, with one beneficiary being a Turkish businessman with close ties to Turkish President Recep Tayyip Erdoğan.
This case, and the new details being reported here, add to a growing list of examples of how the political access that is generously granted to major political donors in President Trump's orbit can allow seemingly unvetted individuals, some of whom may have foreign government ties, to gain an audience with the president of the United States and high-level officials in his administration.
Political access and backroom diplomacy
In January 2017, Wadie Habboush was the CEO of the Habboush Group, a family investment and construction company based in New York and Istanbul. That month, as Donald Trump prepared to assume the presidency, Habboush's father, R.W. Habboush, gave two large political contributions totaling exactly $1 million.
On January 6, FEC records show that the elder Habboush gave a total of $334,000 to the Republican National Committee. Then, less than two weeks later, on the day before President Trump's inauguration, he contributed an additional $666,000 to then-president-elect Donald Trump's inaugural committee.
A review of FEC records by CREW indicates that before 2017, neither Habboush had ever reported any prior political donations.
Following his father's gift to the inaugural committee, Wadie Habboush reportedly attended an inaugural dinner thrown by Tom Barrack, the committee's chairman. According to the Washington Post, internal documents from the dinner listed Habboush as a guest of "DJT."
Three weeks later, he and Gentry Beach, a Texas businessman who is a longtime friend of Donald Trump Jr., met with National Security Council officials and then-presidential advisor Steve Bannon at the White House. According to reports, Habboush and Beach pitched "a plan to build new relations between the United States and [Venezuelan President] Nicolás Maduro" and sought to end United States sanctions against Venezuela.
Although Habboush's attempt to conduct backroom diplomacy was eventually unsuccessful, his access to White House national security staff, seemingly gained through political patronage, raised major ethical concerns at the time.
What has not been reported, however, is that Habboush's attendance at President Trump's inaugural festivities was not the last time that the businessman appears to have gained access to the highest rungs of the government through large contributions.
In March 2017, two months after the senior Habboush's contributions to the inauguration and the RNC, Wadie Habboush made an appearance at an exclusive event characterized as a "GOP donor meeting"—a fundraising dinner held in Palm Beach, Florida, reportedly attended by President Trump, then-Florida Governor Rick Scott, and Senator Marco Rubio. RNC Chair Ronna McDaniel was also reportedly in attendance.
And Habboush appears to have brought a guest.
An Erdoğan ally in the President's home court
In photographs from Turkish press reports published soon after the Palm Beach event, Habboush is seen facilitating an interaction between President Trump and another man: Emrullah Turanlı, characterized in the reports as "the first Turkish businessman to meet with Trump." Turanlı—who published an Instagram post of him and Habboush speaking with Trump—owns and runs Taşyapı, a large Turkish construction company. Taşyapı happens to have initially helped develop the Trump Towers project in Istanbul before selling its stake in the development, officially separating itself from the project.
Turanlı is no ordinary businessman, however. He is, in fact, a close ally of President Erdoğan who was once detained by Turkish police for his alleged participation in a vast corruption scheme involving high-ranking members of Erdoğan's political party.
In December 2013, Istanbul police launched a massive set of anti-corruption operations, arresting a number of individuals associated with Erdoğan's party under suspicion of involvement in bribery, graft, and money laundering, among other offenses. Turanlı, who the Turkish-language press has described as a member of Erdoğan's inner circle, was detained during the sweep.
Erdoğan decried the anti-corruption actions as a "judicial coup" concocted by political rivals, and ultimately undermined the investigations by purging the Turkish police force. Despite this, existing evidence appears to corroborate the charges against Turanlı: In 2014, a tape was leaked of a call in which Turanlı and Turkey's then-Minister of Environment and Urban Planning conspired over the assignment of a demolition contract.
Erdoğan and Turanlı have remained allies in the years since. As recently as last year, they were photographed together signing a contract for the construction of a major highway in Serbia.
Business partners
How did Emrullah Turanlı, an allegedly corrupt Erdoğan-tied Turkish construction baron, gain an audience with President Trump? His own statements seem to point towards none other than Wadie Habboush.
In May 2017, Turanlı's company issued a press release boasting about the businessman's recent meeting with President Trump. In the release, Turanlı stated that "business partners" of his who "are among the supporters of [the] Republican Party" had brought him to the event.
Wadie Habboush's company and Turanlı's company have participated in joint ventures in the past. Given this fact, as well as the photographs showing Habboush with Turanlı, it seems likely that Habboush was one of the "business partners" and Republican Party supporters who brought Turanlı to the GOP dinner.
Major questions remain
Emrullah Turanlı's attendance at President Trump's inauguration and the GOP's subsequent fundraiser in Palm Beach raises a number of questions. Why exactly might Wadie Haboush have brought Turanlı to the events? Did Turanlı's ties to Erdoğan come up in these interactions? What was the role of Turanlı's former business partnership with President Trump in all of this?
Even if these questions cannot be answered using available information, their very existence is a result of the Trump administration's ethical and procedural errors. If President Trump were not so willing to give access to donors, if he did not possess business connections in foreign countries, and if the White House were not already so demonstrably open to back-channel diplomatic efforts, then reports like this one might not be necessary. Unfortunately, that is not the case.
Read More in Investigations