9 out of 10 Republicans silent on Trump's calls to terminate the Constitution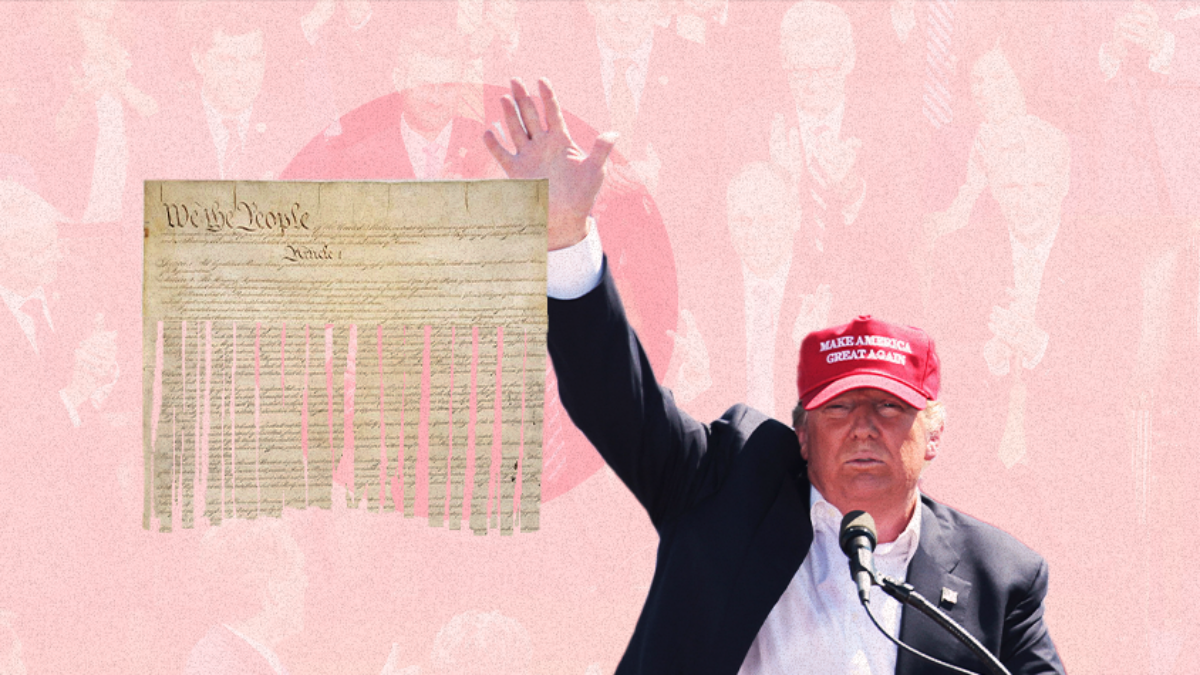 Illustration by Miru Osuga/CREW | Trump photo by Gage Skidmore under a Creative Commons license
In December 2022, Donald Trump called for the termination of the United States Constitution, citing his long-debunked Big Lie of a stolen election. In a post on Truth Social, Trump wrote "Do you throw the Presidential Election Results of 2020 OUT and declare the RIGHTFUL WINNER, or do you have a NEW ELECTION? A Massive Fraud of this type and magnitude allows for the termination of all rules, regulations, and articles, even those found in the Constitution."
Following these comments, only a handful of Republican elected officials spoke out against Trump's comments, with the vast majority remaining silent. In the months since, Trump has continued to spread election misinformation and used increasingly violent rhetoric—going as far as to urge his supporters to "Protest, take our nation back" in the event he is indicted. Despite these actions, Trump has been reinstated on Facebook and Instagram despite his increasingly violent rhetoric.
While in office, Donald Trump violated his oath to protect and defend the U.S. Constitution by instigating the January 6th insurrection and attack on the Capitol. These comments are a reminder that Trump still poses a dire threat to our democracy, and that constitutional accountability remains necessary. Members of his party also have a responsibility to speak out against his call to terminate the Constitution. CREW has launched a tracker recording how Republican members of Congress and governors have responded. If your senators, representatives or governor haven't commented, reach out to them and ask and then let us know their response using the form below.
Of the 336 former and current GOP members of Congress and governors listed in CREW's tracker, only 36 have commented on Trump's call to terminate the constitution at all. From these comments, 29 officials have disagreed with Trump's statement to terminate the constitution and seven officials do not see his remarks as problematic or a threat to our democracy. None of the 20 House committee chairs have commented on Trump's statements, and of those 20, only Reps. Mike Bost (IL-12), Jim Jordan (OH-4), Mark Green (TN-7), and Roger Williams (TX-25) have expressed support for Trump's 2024 candidacy. Thus far, 75 GOP members of Congress and governors are either supporting Trump's 2024 Presidential run or backing whoever becomes the Republican nominee. Only 19 members of the GOP that CREW tracked have firmly spoken against Trump's 2024 presidential bid, and a third of those members are no longer in office.
CREW's tracker will be updated regularly —and we need your help. If your elected officials haven't commented on Trump's comments, reach out to them using our tool and let us know their response.
| wdt_ID | Name | Commented? | Repudiated comments? | Supporting Trump's candidacy? | Text of comment | Link |
| --- | --- | --- | --- | --- | --- | --- |
| 1 | Sen. Katie Britt (AL) | No Comment | | No | | |
| 2 | Sen. Tommy Tuberville (AL) | No Comment | | Yes | | |
| 3 | Sen. Richard Shelby (AL)* | No Comment | | If nominated | | |
| 4 | Rep. Jerry Carl (AL-1) | No Comment | | | | |
| 5 | Rep. Barry Moore (AL-2) | No Comment | | Yes | | |
| 6 | Rep. Mike Rogers (AL-3) | No Comment | | | | |
| 7 | Rep. Robert Aderholt (AL-4) | No Comment | | | | |
| 8 | Rep. Dale Strong (AL-5) | No Comment Made | | Yes | | |
| 9 | Rep. Mo Brooks (AL-5)* | Yes | Yes | No | | Source |
| 10 | Rep. Gary Palmer (AL-6) | No Comment Made | | | | |
| 11 | Gov. Kay Ivey (AL) | No Comment Made | | | | |
| 12 | Sen. Lisa Murkowski (AK) | Yes | Yes | | | Source |
| 13 | Sen. Dan Sullivan (AK) | Yes | Yes | | | Source |
| 14 | Gov. Mike Dunleavy (AK) | No Comment Made | | | | |
| 15 | Rep. David Schweikert (AZ-1) | No Comment Made | | | | |
| 16 | Rep. Eli Crane (AZ-2) | No Comment Made | | Yes | | |
| 17 | Rep. Andy Biggs (AZ-5) | No Comment Made | | Yes | | |
| 18 | Rep. Juan Ciscomani (AZ-6) | No Comment Made | | | | |
| 19 | Rep. Debbie Lesko (AZ-8) | No Comment Made | | | | |
| 20 | Rep. Paul Gosar (AZ-9) | Yes | No | Yes | "I support and agree with the former President. Unprecedented fraud requires unprecedented cure." | Source |
| 21 | Gov. Doug Ducey (AZ)* | No Comment Made | | | | |
| 22 | Sen. John Boozman (AR) | No Comment Made | | | | |
| 23 | Sen. Tom Cotton (AR) | Yes | Yes | TBD | "I think we have a pretty good Constitution, and I'd rather follow it than terminate any part of it," he said. "I chose not to be a candidate myself so I don't plan to be a pundit or a strategist for President Trump or any of the other candidates." | Source |
| 24 | Rep. Rick Crawford (AR-1) | No Comment Made | | | | |
| 25 | Rep. French Hill (AR-2) | No Comment Made | | | | |
| 26 | Rep. Steve Womack (AR-3) | No Comment Made | | | | |
| 27 | Bruce Westerman (AR-4) | No Comment Made | | | | |
| 28 | Gov. Asa Hutchinson (AR)* | Yes | Yes | No | Elsewhere in his interview, Hutchinson slammed Trump's recent call for a termination of the Constitution so his electoral loss could be overturned, saying, "any leader, former president that says suspend the Constitution is tearing at the fabric of our democracy. And so we want to make sure that the people know that it's Republicans that support the rule of law." | Source |
| 29 | Gov. Sarah Huckabee Sanders (AR) | Yes | No | TBD | "she said, in a marked break from her campaign, that she only wanted to talk about Arkansas topics." | Source |
| 30 | Rep. Doug LaMalfa (CA-1) | No Comment Made | | | | |
| 31 | Rep. Kevin Kiley (CA-3) | Yes | No | TBD | | Source |
| 32 | Rep. Tom McClintock (CA-5) | No Comment Made | | | | |
| 33 | Rep. John Duarte (CA-13) | No Comment Made | | | | |
| 34 | Rep. Kevin McCarthy (CA-20) | No Comment Made | | TBD | | |
| 35 | Rep. Connie Conway (CA-22)* | No Comment Made | | | | |
| 36 | Rep. David Valadao (CA-22) | No Comment Made | | | | |
| 37 | Rep. Jay Obernolte (CA-23) | No Comment Made | | | | |
| 38 | Rep. Mike Garcia (CA-27) | No Comment Made | | | | |
| 39 | Rep. Young Kim (CA-40) | No Comment Made | | | | |
| 40 | Rep. Ken Calvert (CA-41) | No Comment Made | | | | |
| 41 | Rep. Michelle Park Steel (CA-45) | No Comment Made | | | | |
| 42 | Rep. Darrell Issa (CA-48) | No Comment Made | | | | |
| 43 | Rep. Lauren Boebert (CO-3) | No Comment Made | | Yes | | |
| 44 | Rep. Ken Buck (CO-4) | No Comment Made | | | | |
| 45 | Rep. Doug Lamborn (CO-5) | No Comment Made | | | | |
| 46 | Sen. Rick Scott (FL) | Yes | Yes | | "I believe in the Constitution, and I believe in the rule of law and believe we should enforce it," Florida Sen. Rick Scott, said. "Everybody's gotta be even. Have to abide by it." | Source |
| 47 | Sen. Mark Rubio (FL) | No Comment Made | | | | |
| 48 | Rep. Matt Gaetz (FL-1) | No Comment Made | | Yes | | |
| 49 | Rep. Neal Dunn (FL-2) | No Comment Made | | | | |
| 50 | Rep. Kat Cammack (FL-3) | No Comment Made | | | | |
| | Name | Commented? | Repudiated comments? | Supporting Trump's candidacy? | Text of comment | Link |