"Trump has called all patriots": 174 Jan. 6th criminal defendants say Trump incited them
Illustration by Miru Osuga/CREW | Insurrection photo courtesy of Nate Gowdy
One hundred seventy-four defendants from 37 states who were charged for their participation in the January 6th insurrection have said they were answering Donald Trump's calls when they traveled to Washington and joined the violent attack on the Capitol. CREW's examination of court filings, transcripts, and news items regarding defendants in January 6th cases shows that defendants—ranging from convicted seditionists such as members of the Proud Boys and Oath Keepers to individual members of the public—considered Trump their leader and believed they were following his lead by joining the insurrection.
In letters to federal judges, federal court filings, and appeals to the public, these defendants and their legal representatives have made it clear that Trump's repeated false statements and calls to action drove their actions that day. These findings bolster those of the January 6th Select Committee which found Trump was the "central cause" of the attack on the Capitol.
The defendants who argued that Trump called them to the Capitol and to violence on January 6th were residents of 37 states, from Hawaii to Florida, and Maine to California. Far from a convenient protest of residents from DC and neighboring states (only 8 of the 174 defendants came from Virginia or Maryland, and none came from DC), this was a mass mobilization.
On December 19, 2020 Trump tweeted, "Big protest in D.C. on January 6th. Be there, will be wild!" Trump's tweet, and others like it, generated a massive response from his supporters, who received them as "marching orders." Kelly Meggs, a Florida member of the Oath Keepers, wrote in a message around the time of the post, "He called us all to the Capitol and wants us to make it wild!!! Sir Yes Sir!!! Gentlemen we are heading to DC pack your shit!!"
Another defendant wrote in her group chat, "[W]e're going back to Washington January 6th. Trump has called all patriots. If the electors don't elect, we will be forced into civil war."
While many rank-and-file Trump supporters responded to Trump's rallying cries in the run-up to January 6th as calls to action that ultimately led to the attack, members of at least two hate groups, the Proud Boys and Oath Keepers, understood them to be direct orders. According to CREW's analysis, 16 members of these groups were following perceived instructions from Trump to come to D.C. and attack on January 6th. Oath Keepers founder Stewart Rhodes and his allies repeatedly called for a "violent overthrow" of the government. Proud Boys leader Henry "Enrique" Tarrio coordinated directly with the Trump campaign to have members of the Proud Boy attend the Stop the Steal rally.
Both groups have a history of violence and intimidation, and it was apparent that both groups prepared for violence to occur on January 6th. In addition to calling for a violent overthrow of the government, Rhodes shared with Tarrio, Roger Stone, Stop the Steal campaign organizer Ali Alexander and others a "proposal for storming Congress." On January 6th itself, Oath Keeper members staged an "arsenal" of weapons in nearby hotels and came to DC in tactical gear. In May, Rhodes was sentenced to 18 years in prison for seditious conspiracy, the longest sentence yet given to anyone involved in the insurrection, and four other Oath Keeper members were convicted of the same charge in January.
While Trump had already convinced members of these groups to attack the Capitol before even arriving in Washington, many who came to the city at Trump's request were finally convinced to join the attack by his direct appeals to the crowd at his Stop the Steal rally on the morning of January 6th. During that speech, Trump went off script to tell the massive crowd, many of whom he knew were armed and prepared for violence, "We're going to walk down to the Capitol" to "fight like hell." According to CREW's analysis, of the 174 people charged for crimes committed on January 6th who said they were answering Donald Trump's calls, 94 specifically cited Trump's remarks as the reason they went to the Capitol. That does not include rally-goers who were incited by Trump and swarmed the Capitol but were not arrested. As a New Mexico judge determined last year in a case removing a January 6th participant from public office under Section 3 of the Fourteenth Amendment, also known as the Disqualification Clause, members of the mob that did not individually engage in violence or enter the Capitol building were nonetheless critical to the insurrection and contributed to law enforcement's difficulty in regaining control of the Capitol.
Many of the most violent insurrectionists acknowledged that they were incited by Trump. Two members of the mob who led life-threatening attacks against Metropolitan Police officers Daniel Hodges and Michael Fanone both claimed that they were incited to violence by Trump. Fanone's attacker, Daniel Rodriguez, said, "I thought [Trump] was calling for help. I thought we were doing the right thing."
Nicholas Languerand, who assaulted officers with a traffic barrier, pepper spray can, and other objects, posted a "#MessageFor45" on Twitter four days after Trump's "will be wild" tweet, saying "We're picking up your messages, and we're listening. We're ready to do this thing. We're ready to fight to defend our republic against all enemies, foreign and domestic." Douglas Austin Jensen, who chased Capitol Police officer Eugene Goodman up a flight of stairs inside the Capitol, told investigators, "Trump posted make sure you're there, January 6 for the rally in Washington, D.C. … and then he got us all fired up to go to [the Capitol]."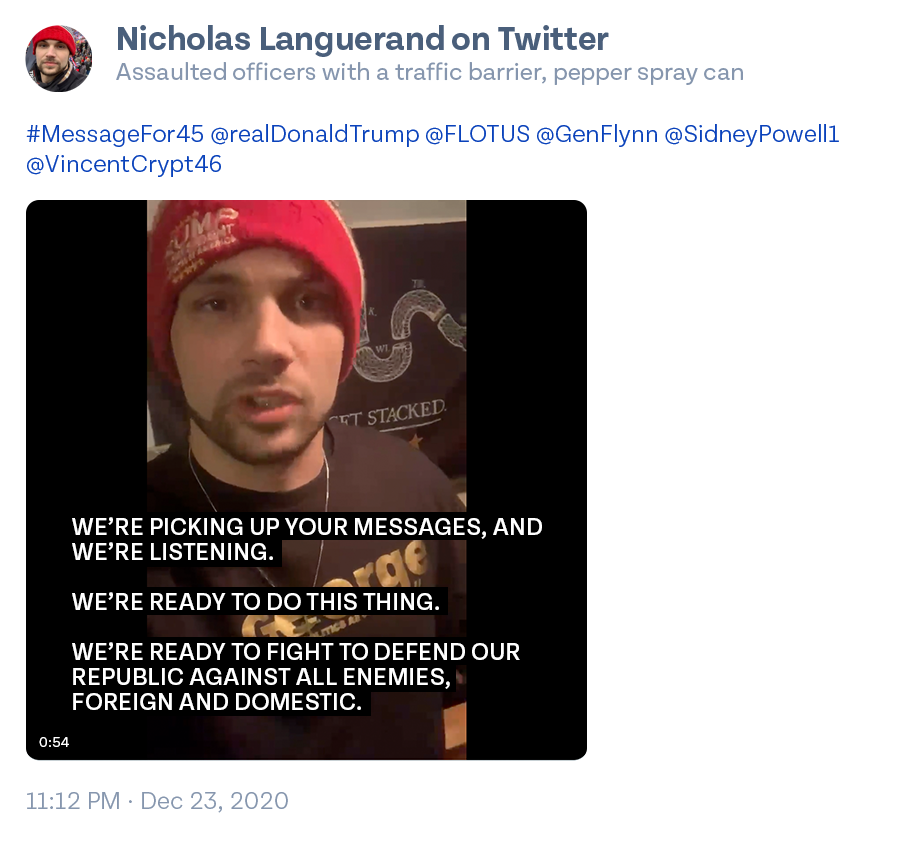 Maybe most illustrative of Trump's control of the mob is that many who violently resisted leaving the Capitol grounds for hours as Trump egged them on immediately left when Trump, finally caving to pressure after his attempt to disrupt the transfer of power failed, instructed them to do so. As defendant Stephen Ayres told the January 6th committee, Trump's 4:17 pm tweet telling those at the Capitol to "go home" finally dispersed the crowd. Ayres had gone to the Capitol because, as he put it, "the President got everybody riled up and told everybody to head on down. So we basically was just following what he said."
Among those known to have left in response to Trump's tweet are "QAnon Shaman" Jacob Chansley and Garret Miller, who threatened a member of Congress on Twitter shortly after the attack. That evening, Trump celebrated and justified his mob's violence, tweeting "These are the things and events that happen" when a so-called election victory is "unceremoniously & viciously stripped away from great patriots. … Remember this day forever!"
The January 6th Select Committee minced no words in laying blame for the insurrection directly on Donald Trump. The Committee found that "the central cause of January 6th was one man, former President Donald Trump, whom many others followed. None of the events of January 6th would have happened without him." The Committee's report documented in painstaking detail how, in the months leading up to Election Day in 2020, Trump began laying the groundwork at his rallies and online that any election results that did not ultimately declare him the winner should be rejected and would be the result of massive voter fraud. Once it was clear he had lost, Trump attempted to pressure, coerce, and intimidate government officials at every level to help him unlawfully stay in office. He continued to falsely claim that the election had been stolen, despite top officials in his administration and campaign repeatedly objecting and presenting him with evidence of the contrary.
Trump's campaign devised a plan to reverse the outcome of the election using fake electors, which the January 6th Committee referred to as "an unlawful, unprecedented and destructive break from the electoral college process" that "led directly to the violence that occurred on January 6th." Ultimately, the January 6th Select Committee pointed to these actions and the former president's repeated callings that urged his supporters to come to Washington, DC, to "stop the steal" as the catalyst for the insurrection. He used violent rhetoric to whip his supporters into a frenzy and then directed them to march down to the Capitol to disrupt the peaceful transfer of power for the first time in American history.
CREW's analysis bolsters the evidence that January 6th was the result of organized efforts by Donald Trump and his allies to halt the certification of a free and fair election by force. Based on his actions surrounding the insurrection, Donald Trump is disqualified from ever holding public office again under Section 3 of the 14th Amendment, which bars anyone who has taken an oath to uphold the Constitution and who then engaged in insurrection or gave aid or comfort to insurrectionists from holding state or federal office. Protecting our democracy means preventing those who tried to overthrow our government on January 6th from trying to lead it. This is not merely a policy preference; it is a constitutional imperative.
This table includes information on all those defendants incited by Trump:
wdt_ID
Name
State of residence
Incitement details
Additional details
Incitement to Capitol
Extremist group affiliation
Cite
Cite 2
1
Alan Hostetter
CA
"On December 19, 2020, HOSTETTER posted from his 'americanphoenixproject' Instagram account explaining the reasons to travel to D.C. for January 6,2021: 'Late last night President Trump tweeted that all patriots should descend on Washington DC on Wednesday 1/6/2021. This is the date of the Joint Session of Congress in which they will either accept or reject the fake/phony/stolen electoral college votes. I will be there, bullhorns on fire, to let the swamp dwellers know we will not let them steal our country from us. I hope you can join me!! #fightfortrump #stopthesteal #savetherepublic'"
Source
2
Alex Kirk Harkrider
TX
"Like so many, Mr. Harkrider was unaware of any march on the Capital until the President of the United States told his supporters to 'peacefully and patriotically make your voices heard' and 'we are going to the capital...' Like thousands of others, Mr. Harkrider was responding to the entreaties of the then Commander-in-Chief, former President Donald Trump. The President maintained that the election had been 'stolen' and it was the duty of loyal citizens to 'stop the steal.' Defendant did not act out of criminal intent but out of sense of duty."
x
Source
3
Alexander Sheppard
OH
"Mr. Sheppard submits that, on or about January 6, 2021, he was and believed he was directed and authorized to engage in the conduct set forth in the indictment by Donald J. Trump and his various agents and representatives."
x
Source
4
Andrew Griswold
FL
"Documents state that Griswold believed President Trump directed him and everyone else attending a rally on the morning of Jan. 6 to march on the Capitol."
x
Source
5
Andrew Ryan Bennett
MD
"Mr. Bennett, like many hundreds of thousands, actually millions, of republicans were persuaded by Donald Trump's incessant and negative messaging. ... To redress the vulnerability and the stolen election Donald Trump called for action. Specifically, he called on his millions of supporters to travel and demonstrate in Washington, D.C. on January 6, 2021. Mr. Bennett answered that call"
Source
6
Anthony Alexander Antonio
IL
"ANTONIO stated that he came to Washington, D.C. because then-President Trump told him to do so... ANTONIO also claimed that he did not know anything of importance was happening at the Capitol on January 6, 2021. He asserted that he did not know anyone except police officers were at the Capitol building, and only went to the Capitol building because then-President Trump stated that he would be there on the steps."
"He called people to Washington, DC that day. He said march down to the Capitol. I personally would not have marched down Pennsylvania Avenue and walked to the Capitol, on the grass of the Capitol," he said. "... if [Trump] didn't say 'go down to the Capitol,' I wouldn't have went down to the Capitol."
x
Source1
Source 2
7
Anthony Michael Puma
MI
"Furthermore, he acknowledges that he was encouraged by the former President Trump and has disavowed himself from any dangerous propaganda that led him to commit a crime. While this does not excuse his actions, Mr. Puma genuinely feels tricked by the former president who he trusted would not steer him down an illegal path. He now knows he should have never fell for his manipulation strategies."
x
Source
8
Anthony R. Mariotto (aka Tony Mariotto)
FL
"As the day unfolded, he never planned or envisioned entering into the U.S. Capitol. That is, until Trump invited everyone to the March at the Capitol"
x
Source
9
Antony Vo
IN
"In another conversation, he wrote "President [Trump] asked me to be here tomorrow so I am with my mom LOL."
Source
10
Athanasios Zoyganeles
IL
According to Facebook records, on December 21, 2020, Zoyganeles' friend messaged him "In case you haven't heard, Donald Trump had asked us to be in Washington DC on January 6th. Be there. Trump needs us." Zoyganeles replied "Ok ill let my work know."
Source
11
Audrey Ann Southard-Rumsey
FL
"True Patriot's, like myself, went to DC on January 6th, because President Trump asked US too, and after all he had done for this country, we were happy to oblige."
Source
12
Benjamin Larocca
TX
"That morning, he and LAROCCA drove from Virginia to Washington, D.C. for the rally with President Donald J. Trump. CORTEZ explained that, after President Trump made a statement about marching to the Capitol, he and LAROCCA traveled with a crowd of others to the Capitol."
x
Source
13
Boyd Allen Camper
MT
"He said he came to Washington D.C. because he was very involved on Facebook, believed the election was fraudulent and, as a Marine Corps veteran, went to answer the call of his 'commander and chief' former President Donald Trump."
Source
14
Brandon Cavanaugh
CA
"I like many other Patriots attended the rally on our nation's capital on January 6th with thousands of our fellow Americans. I was there to answer our call to action and show support for what I believed in."
Source
15
Brandon Fellows
NY
"Brandon Fellows had never attended a Trump rally before last week. He said he was motivated to drive to Washington after seeing a tweet from the president. 'Big protest in D.C. on January 6th,' President Donald Trump wrote on Dec. 19. 'Be there, will be wild!'"
Source
16
Bruce J. Harrison
IL
"Douglas Wangler and Bruce Harrison went to the U.S. Capitol to attend a rally hosted by then President Donald Trump. Their sole purpose in driving to Washington D.C. was to witness history as promised by former President Trump"
Source
17
Bruno Joseph Cua
GA
"President Trump is calling us to FIGHT!" Brunocua posted. "#DOJ, #SCOTUS, #FBI, His own cabinet, everyone has betrayed him. It's Trump & #WeThePeople VS the #deepstate and the #CCP. He knows this is the only way to save our great country, show up #January6th. It's time to take our freedom back the old fashioned way. #Thisisour1776."
Source
18
Cale Clayton
MO
Shouted at MPD on 1/6: "You guys realize your President told us to be here. Your President! Hey, how does that make you feel? You're defying your own fucking country... Who do you [inaudible]? The fucking city of D.C.? The fucking mayor? Or the President of the United States. Are you a patriot? Or are you a fucking yes man?"
Source
19
Charles Bradford Smith
PA
"The call to action was put out to be in DC on January 6th from the Don himself. The reason is that's the day pence counts them up and if the entire city is full of trump supporters it will stop the for sure riots from burning down the city at least for a while." "Hey man if you gonna go down to DC on the 6th Trump is asking everyone to go. That's the day Pence counts up the votes and they need supporters to fill the streets so when they refuse to back down the city doesn't burn down right away. It's the only time hes ever specifically asked for people to show up. He didn't say that's why but it's obviously why." "Take off the 6th man! It's the Big one!!! Trump is literally calling people to DC in a show of force. Militias will be there and if there's enough people they may fucking storm the buildings and take out the trash right there."
Source
20
Christian Cortez
TX
"CORTEZ explained that, after President Trump made a statement about marching to the Capitol, he and LAROCCA traveled with a crowd of others to the Capitol"
x
Source
21
Christian Secor
CA
"On January 6, 2021, Christian Secor attended the 'Stop the Steal' rally and at the urging of the President—walked 'down Pennsylvania Avenue' to the Capitol... Furthermore, the nature and circumstances of this offense must be viewed through the lens of an event inspired by the President of the United States of America. On January 6, 2021, the President made 'statements that encouraged—and foreseeably resulted in—imminent lawless action at the Capitol.' Christian Secor's behavior at the Capitol is indicative of an individual invited by the President to adopt behaviors based on an emotional rather than a rational basis."
x
Source
22
Christopher Ray Grider
TX
"Grider stated on camera, 'The president asked people to come and show their support I feel like it's the least that we can do, it's kind of why I came from central Texas all the way to DC.'"
"He's done a lot for the country and he asked this and I figured that's something that I could do, so that's why I went and showed up and showed support."
Source 1
Source 2
23
Christopher Worrell
FL
"Worrell's lawyer, Landon Miller, told CNN...Worrell only came to Washington and marched to the Capitol because he was inspired by former President Donald Trump's 'invitation' to do so...'Mr. Worrell...also asserts that he went to Washington, D.C. and then the Capitol grounds at the direction of former President Trump.'"
x
Proud Boys
Source
24
Cindy Fitchett
VA
"Fitchett claimed she got 'caught up in the moment' when the former president 'invited us to the Capitol.'"
x
Source
25
Cleveland Grover Meredith Jr.
NC
"Another friend texted Defendant stating, 'I think Trump wants you to go home peacefully!!' Defendant responded, 'Bullshit, he wants HEADS and I'm gonna deliver'."
x
Source
26
Cody Mattice
NY
"At 4:36 p.m., after Mattice's assault on the police at the LWT, this unknown person texted Mattice, 'Damn lol that's fucking crazy why did you guy storm the capital what's going on down there.' Mattice answered, 'Trump told us to because of the fraud.'"

"According to Mattice, when the former President asked his supporters to march on the Capitol, it was not a call to 'peacefully and patriotically make your voices heard,' but to storm and seize the building by force."
"He claimed that his trip to the Capitol was not pre-planned, and he did not know the former President was going to tell people to do anything."

"As we stood and listened the best we could we eneded up hearing former President Trump tell the crowd that everyone was going to march on Capitol Hill, to fight for out country, to be strong, no noe was going to do it for us and that he'd be right there beside us."
x
Source 1
Source 2
27
Corinne Montoni
FL
"On December 20, 2020, MONTONI discussed with an individual on Facebook plans to travel to Washington, DC for the January 6, 2021 rally. MONTONI asserted, 'Trump called us to dc jan 6th [sic]'.
"MONTONI then shared an article discussing 'President Trump on Saturday promised that there would be a 'wild' protest in Washington D.C. on Jan. 6…'"
Source
28
Couy Griffin
NM
"the reason why I'm going to Washington D.C. is because my president called me to be there and I'm gonna be there."
Source
29
Craig Michael Bingert
PA
"Craig Michael Bingert...hereby gives notice that he may assert as a defense at trial that he was acting under actual or believed public authority at the time of some of the alleged offenses. Mr. Bingert submits that, on or about January 6, 2021, he was and believed he was directed and authorized to march to the Capitol building and enter the Capitol Grounds by Donald J. Trump and his various agents and representatives."
x
Source
30
Dalton Ray Crase
MN
"On January 6, Mr. Crase, upon the urging of President Trump, traveled to Washington, D.C., to protest the results of the 2020 presidential election. After hearing the president's speech and heeding his call for supporters to 'walk down Pennsylvania Avenue,' Mr. Crase marched with thousands of others to the Capitol building."
x
Source
31
Dana Joe Winn
FL
"Not until Trump's speech did he have any intention of going anywhere other than the Ellipse area, and not being from the area or having attended a protest there before, he had no real sense of where things were in relation to each other. As the day unfolded, he never planned or envisioned entering the U.S. Capitol building or grounds. That is, not until Trump invited everyone to march to the U.S. Capitol"
x
Source
32
Daniel Dean Egtvedt
MD
"Good Day patriots! ....on the 12 day of Christmas my President said to me.......(come to DC)....(1776/2?) be a part of history...(see you soon) ...(truth revealed)....(victory is ours...) it going to be huuuuuge!" Egtvedt posted the morning of January 6
"Another attorney representing Egtvedt, Kira Anne West, told Cooper they intended to mount a public authority defense against many of the charges against him – arguing, in essence, that Egtvedt had the permission of the president of the United States to be at the Capitol."
x
Source 1
Source 2
33
Daniel Herendeen
MI
"When Donald Trump announced plans for the "Stop the Steal" rally, Mr. Herendeen and his friends wanted to go... After all, Mr. Trump asked for two things: his vote and to attend the rally...They had no plans to go to the Capitol until Donald Trump said that they should go there to 'make your voices heard.'"
x
Source
34
Daniel Johnson
MO
"At no time did he ever think he was going to the U.S. Capitol grounds, let alone inside the Capitol building. Not until Mr. Trump's speech did he have any intention of going anywhere other than the Ellipse area, and not being from the area or having attended a protest there before, he had no real sense of where things were in relation to each other. As the day unfolded, he never planned or envisioned entering the U.S. Capitol Building. That is, not until Mr. Trump invited everyone to march to the U.S. Capitol."
"Mr. Johnson believed what he read on the internet and heard from the President himself - that the election had been stolen. He believed that there was wrongdoing in the State of Georgia, and in other States, with regard to the counting of the Presidential election votes"
x
Source
35
Daniel Paul Gray
FL
"In a private message to another user, GRAY asked, 'are you gonna be in DC on the 6th like trump asked us to be?'"
Source
36
Daniel Rodriguez
CA
"A. Trump called us. Trump called us to D.C. Q. Tell me about that. How did he let you guys know to come to D.C.? A. If he's the commander in chief and the leader of our country, and he's calling for help -- I thought he was calling for help. I thought he was -- I thought we were doing the right thing."
"we thought we were going to hit it like a civil war. There was going to be a big battle...I thought that there was going to be fighting, for some reason, in different cities and I thought that the main fight, the main battle, was going to be in D.C. because Trump called everyone there."
Source
37
Daniel Shaw
CA
"Operating under a truth shared by others and fed to him through media and the former President Trump himself, Mr. Shaw thought he would bring his son to a historic moment in D.C. — when the vote count would be corrected, and Mr. Trump would be named president... They listened to President Trump's speech, were emboldened by the President's words and the crowds around them, and proceeded with others to the east side of the U.S. Capitol."
x
Source
38
David Charles Mish Jr.
WI
"Mr. Mish drove to Washington, D.C. on January 6, 2021 because he was a Trump supporter who sincerely believed in what his former President told him...The former President told his supporters that they would go down to the Capitol together as he said, 'we're going to walk down to the Capitol.' Unsurprisingly, Mr. Mish, along with almost the entire crowd, began walking down to the Capitol grounds."
x
Source
39
Dawn Bancroft
PA
"Unlike many other defendants in this case, she did not make the decision to walk over to the Capitol Building until it was urged on during the end of the former President's speech"
x
Source
40
Deborah Sandoval
IA
"She did not come to Washington, DC with the intent to go to the Capitol Building. Instead, she came to Washington DC to attend a political rally at the invitation and urging of the Former President... she did not encourage or condone any acts of violence, before or on the day in question. That idea was planted by the Former President and his cohorts, as they herded and then incited an unsuspecting group to protest and then storm the Capitol."
"On Dec. 21, 2020, she posted to the group chat, 'Hey, we're going back to Washington January 6. Trump has called all patriots. If the electors don't elect, we will be forced into civil war. China has infiltrated our government thru Biden and they are waiting to attack.'"
Source 1
Source 2
41
Derek Kinnison
CA
Kinnison said in an interview with Sebastian Gorka that he was "answering the call" from Trump when he decided to travel to D.C. on Jan. 6.
Source
42
Derek Sulenta
CA
"Sulenta's Facebook Account contained postings on December 23, 2020, stating, 'I'll be there Jan 6th to support the president no matter what happens' and 'That's the day he called for patriots to show up.'"
Source
43
Derrick Evans
WV
"I saw a tweet from President Trump asking people to show up, so I decided to go, to show up that day, as there'd be a lot of people peacefully protesting. So I showed up to go do the same thing and rode a bus from West Virginia to Washington, D.C."
Evans posted a meme showing President Trump and the text, "TAKE AMERICA BACK. BE THERE. WILL BE WILD. D.C., JANUARY 6, 2021. EVANS captioned the post, "One week from today! Who's going?"
Source 1
Source 2
44
Devlyn Thompson
WA
"He did not go to the Capitol to overthrow the government. Rather, he believed former President Trump when Trump said .... 'And after this (his speech), we're going to walk down, and I'll be there with you, we're going to walk down, we're going to walk down.' Trump says three times in that one sentence alone that he was going to be walking down (Pennsylvania Avenue) with the protestors, adding for emphasis that he will be there 'with you.' Mr. Thompson literally believed this was what was going to happen, and of course it did not. For someone with a history of being tricked by others and a person with a 'literal interpretation' of things, it should not be completely surprising that Mr. Thompson believed former President Trump would peaceably calm things down once he arrived at the Capitol. All day long he kept an eye out for fonner President Trump, waiting for him to arrive at the Capitol and save the day."
x
Source
45
Dillon Paul Homol
FL
In an interview with the FBI, "HOMOL stated that he attended the planned rally at the Ellipse and listened to multiple speakers, including the President...HOMOL claimed that he walked to the Capitol building at the President's request and thought the President was leading the crowd there."
x
Source
46
Dominic Pezzola (aka Spaz, aka Spazzo, aka Spazzolini)
NY
"PEZZOLA's attorneys wrote that PEZZOLA was 'responding to the entreaties of [TRUMP],' and that he was 'misled' by TRUMP's 'deception'"
"The boss of the country said, 'People of the country, come on down, let people know what you think,'" accoding to Pezzola's defense lawyer, Michael Scibetta. "The logical thinking was, 'He invited us down.'"
Proud Boys
Source 1
Source 2
47
Dona Sue Bissey
IN
"Ms. Bissey came to Washington, D.C. upon the urging of the President ... It was not until President Trump's son raised the idea of marching to the U.S. Capitol that Ms. Bissey even considered going to the seat of Congress ... However, as President Trump wrapped up his inciting calls to action, Ms. Bissey and her friend joined the growing crowd moving down Pennsylvania Avenue."
Source
48
Douglas Austin Jensen
IA
"I didn't plan nothing. I didn't -- I didn't -- I just -- I did what my President told me, and that was to go to D.C. on the 6th for a rally." "Trump posted make sure you're there, January 6 for the rally in Washington, D.C., I'll have some great info...You know, he -- and then he got us all fired up to go to that White House, and then it just all happened so quick and I just wanted to make sure that I wanted to be in the front."
"Q didn't say anything but make sure you go. … Well, he didn't say it. When you go to the app, well, Trump said -- the reason I went was because Trump said he had info for us at this rally, and I honestly thought I was going there to be told -- I thought it was show time, and - … I thought all these arrests were going to start happening like I've been hoping, I guess, and nothing. Well, I went to the Trump rally with the hopes of finding out some information because he said he has some great information for us"
Source
49
Douglas K. Wangler
IL
"WANGLER stated that at some point during his speech, Trump said something to the effect of, 'We're going to peacefully walk to the Capitol building.' WANGLER advised that while Trump was still speaking, he heard a loud commotion – which sounded to him like fireworks going off – from the direction of the U.S. Capitol building. WANGLER recalled seeing a large group of people start running toward the U.S. Capitol building at the time of the loud commotion. Both WANGLER and HARRISON stated that they walked over to the U.S. Capitol building with a large group of people after Trump's speech at the rally was over."
"Douglas Wangler and Bruce Harrison went to the U.S. Capitol to attend a rally hosted by then President Donald Trump. Their sole purpose in driving to Washington D.C. was to witness history as promised by former President Trump"
Source 1
Source 2
50
Douglas Sweet
VA
"On January 6, Mr. Sweet, upon the urging of President Trump, traveled to Washington,
D.C., to protest the results of the 2020 presidential election...After hearing the president's speech and heeding his call for supporters to 'walk down Pennsylvania Avenue,' Mr. Sweet marched with thousands of others to the Capitol building... Later, when the FBI interviewed Mr. Sweet and he was asked about his intentions in going to D.C., he admitted he 'had no idea that there was even a possibility of [speaking to members of Congress]. When we went up, we were just going up to see Donald Trump speak. He asked his supporters to come, so we all went. There was no preconception that we would ever be able to go in.'"
"Trump asked all the patriots to show up, so I did."
x
Source 1
Source 2