Trump has made 500 visits to his properties while in office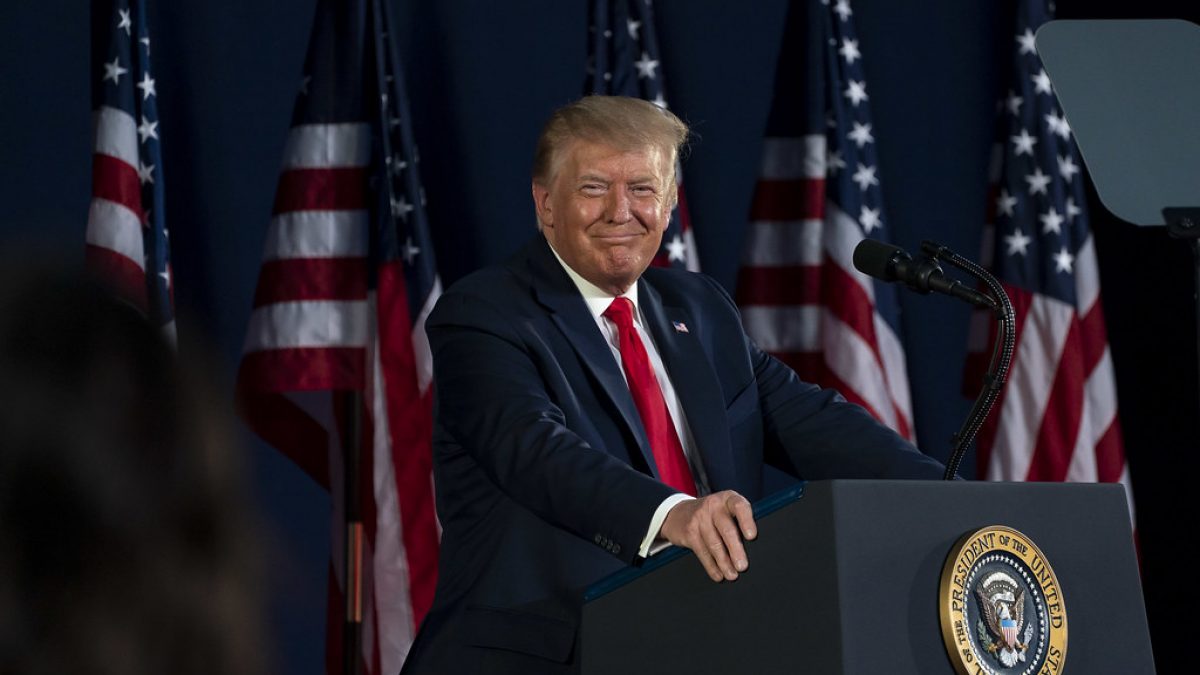 President Trump made his 500th visit to one of his properties since becoming president when he went to the Trump hotel in Washington today to meet with political donors ahead of his speech at the Republican National Convention. This milestone is stunning even for a presidency that has been defined by corruption, self-dealing, and abuse of power.
After promising on the campaign trail that he would put his assets in a blind trust if elected, Donald Trump went back on that commitment just before taking office. He promised instead that a wall of separation would be maintained between the presidency and his businesses. That statement also turned out not to be true. Instead of erecting a firewall, Trump did the exact opposite and has persistently used the presidency to promote and enrich his businesses. Five hundred visits later, he has successfully channeled millions of dollars in political, special interest, and taxpayer money into his own pockets.
President Trump has visited or stayed at one or more of his properties on 394 separate days since becoming president. That figure amounts to almost one third of his time in office at one of his properties, or well over a year of his presidency.
While he's visited 14 of his properties throughout his time as president, Trump has spent the most time at his prized Mar-a-Lago club, which he has visited 134 times. As a candidate in 2015, Trump criticized President Obama for his golf outings and even told the press that he would "rarely leave the White House" with all the work that he would be doing as President. Yet, President Trump has visited his golf clubs 300 times since taking office. So far in less than one full term, Trump has gone to Bedminster 104 times, the Trump International Golf Club in West Palm Beach 92 times, and visited his golf club outside of Washington, D.C. 91 times at.
var divElement = document.getElementById('viz1598549041605'); var vizElement = divElement.getElementsByTagName('object')[0]; if ( divElement.offsetWidth > 800 ) { vizElement.style.width='1000px';vizElement.style.height='577px';} else if ( divElement.offsetWidth > 500 ) { vizElement.style.width='1000px';vizElement.style.height='577px';} else { vizElement.style.width='100%';vizElement.style.height='827px';} var scriptElement = document.createElement('script'); scriptElement.src = 'https://public.tableau.com/javascripts/api/viz_v1.js'; vizElement.parentNode.insertBefore(scriptElement, vizElement);
When Trump visits one of his properties, he often brings other government officials with him. Senator Lindsey Graham has accompanied the President to Trump's properties more than any Member of Congress, while Ivanka Trump and Jared Kushner are two of the top visitors to Trump properties from the executive branch. Dan Scavino, Steve Mnuchin, Mick Mulvaney, and Kevin McCarthy have also accompanied the President to various properties many times.
It's one thing for President Trump to patronize his own businesses, but when he brings some of the country's highest ranking government officials, he sends a message around the world that Trump businesses are centers of power and fluence. These VIP visits also bring a ton of publicity to the businesses, not to mention hundreds of thousands of dollars in taxpayer money.
During his time in the White House, national crises seem to be the only thing that has kept Trump from regularly visiting his properties. First it was government shutdowns. Then the coronavirus pandemic forced Trump to take a break from visiting his properties from mid-March through April, but he picked right back up again in May and has since made several visits, mostly to his golf courses. With his return come the special privileges paying customers at his properties can get such as a presidential drop-in at a wedding to getting your policy pitch forwarded to a cabinet secretary. In the last few weeks Trump has mingled with supporters at the Trump Hotel in D.C. and his Bedminster golf course.
Early in President Trump's tenure he declared Mar-a-Lago his "winter White House." This has turned out to be an accurate assessment of the property, but with a large caveat that unlike the White House, Trump profits from the time he spends at Mar-a-Lago. Throughout his presidency Trump has carried out official White House business at several of his properties and in turn has given special access and a peek at the inner workings of the U.S. government to his paying customers.
Most recently Trump signed four executive orders at his Bedminster, New Jersey golf course and created a spectacle for club members. Before signing the orders he gathered several of his paying customers in the club's grand ballroom and promised a "one-of-a-kind show." In the days leading up to the United States' killing of Iranian general Qassem Soleimani in January, Trump reportedly hinted to members of his Mar-a-Lago club that something "big" was brewing in Iran that they would soon hear about on the news.
Trump often shows off his properties to visiting foreign dignitaries, a priceless advertisement to international customers. In early March President Jair Bolsonaro and other Brazilian officials attended an international summit at Mar-a-Lago. This meeting was also facilitated by a member of the club. Japanese Prime Minister Shinzo Abe has also visited Mar-a-Lago on two occasions.
Trump also often makes detours to stay at his properties during official travel. During a four day fundraising trip to the West coast, Trump stayed at the Trump International Hotel in Las Vegas each night, despite having speaking engagements across four states. Trump has also made detours to visit his properties in Scotland, Ireland, and Hawaii.
Trump's presidency has also turned his properties into top Republican fundraising venues. Before Trump ran for president, political spending at his properties never exceeded $100,000 in a single year since at least 2002. Since Trump became a presidential candidate, his properties have taken in tens of millions from political groups, often while offering event hosts access to the president and senior government officials at these events.
Political groups like Republican party committees and super PACs have hosted a whopping 88 events at Trump properties since President Trump took office. The Trump hotel in Washington alone, which is just blocks away from the White House, has hosted 27 different political groups for 45 different events.
Political groups aligned with the president who cut five- and six-figure checks for events at Trump properties are often rewarded for their patronage with a special guest sure to boost fundraising numbers. President Trump has attended 31 political events at his properties since taking office.
While 48 different political groups have hosted events at Trump properties, the president is his own biggest customer. Trump Victory, a joint fundraising group that raises money to both the Trump campaign and the RNC is the top event sponsor, having hosted 19 Trump property events. The president has appeared at 11 of them.
While the coronavirus pandemic temporarily halted political spending at Trump properties, political groups have wasted no time returning to them. With today's visit to his hotel to attend a Trump Victory event, President Trump has attended three political events at his properties since pandemic restrictions began to be lifted in May.
It is no secret that several of Trump's properties have been in financial trouble since the beginning of his presidency and even before. After his election in 2016, the occupancy rate at the famous Trump Tower fell significantly. One of Trump's golf courses in Scotland has never even turned a profit. Profits at Trump National Doral and the Trump International Hotel in Chicago have fallen significantly over the past few years.
Despite the slow business at some of his properties, Trump's frequent visits and relentless promotion has obviously paid dividends. According to his personal financial disclosure, Trump's businesses took in at least $446 million last year, more than 1,000 times the presidential salary he makes a big show of donating.
Over the course of his presidency, Trump's properties have become synonymous with corruption and conflicts of interest. Foreign governments, special interests, and major corporations have used his businesses to gain favor with him and his administration, while enriching Trump himself. Unlike any other modern president, it is abundantly clear that he is abusing the immense power of his office for personal profit. Trump is clearly getting richer from exploiting the presidency, which raises questions about his intentions as president: is he working for the American people, or to give a boost to his own bank accounts?
Read More in Investigations