Trump reported making more than $1.6 billion while president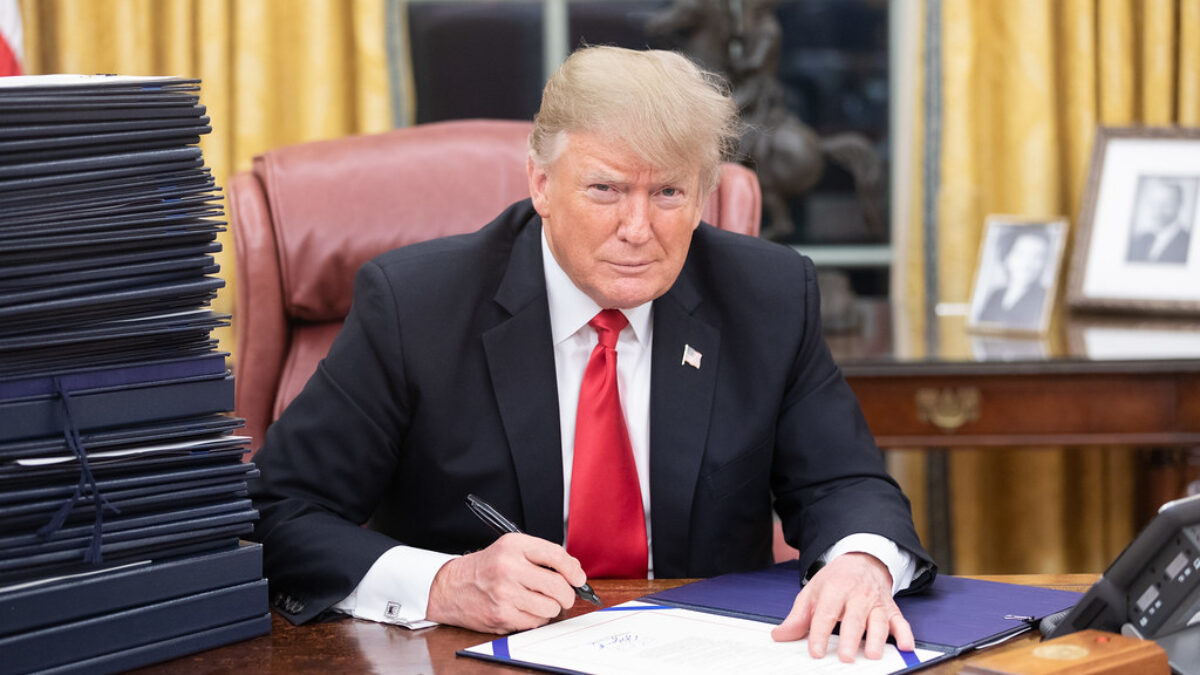 Donald Trump reported making more than $1.6 billion in outside revenue and income during his four years as President of the United States, according to a review of his financial disclosures by CREW. While Trump publicly took credit for donating his taxpayer-funded salary, that ended up being less than 0.1% of the revenue and income he disclosed during his presidency. Far from being a sacrifice, the donation was merely a fig leaf to cover up four years of brazen corruption.
Despite seeing a major dropoff in hospitality related revenue in 2020 due to the pandemic, in total Trump disclosed at least $1,613,583,013 in revenue from the Trump Organization and other outside income. Trump disclosed a high end of $1,790,614,202, but it is impossible to know exactly how much he pocketed as president, as some of his assets list a vague "Over $5,000,000" in yearly income and because of the structure of Trump Organization businesses, reported revenue does not necessarily reflect his personal income from them. One of the reports also included 19 days of revenue and income before Trump assumed the presidency.
A major part of his Trump Organization revenue came from the marquee properties that he often visited during his presidency. The Trump Hotel in DC, his now "home" Mar-a-Lago and his golf courses Doral, Bedminister and Trump National Washington brought in a combined $620,709,659 over the last four years. He paid a combined 399 visits to these properties as president. With the pandemic shuttering hotels and golf courses, the Trump Hotel dropped from $40 million a year in revenue to $15 million from 2020 through the end of Trump's presidency and Doral, which saw regular revenue in the mid-$70 millions, only tallied $44 million. Mar-a-Lago, however, saw a slight uptick to $24 million, as the president continued to visit during the pandemic. The Virginia-based Trump National Washington, which the president spent many weekends at during the pandemic, did not see a dropoff from the previous three years.
Maybe the most notable foreign properties in Trump's portfolio are his three European golf courses—Turnberry and Aberdeen in Scotland and Doonbeg in Ireland—which the famously debt-laden developer bought in surprising cash deals and which have hemorrhaged money every year he has owned them. But while the courses have lost money, Trump still disclosed $138,726,106 in revenue from them over the last four years, this despite revenue dropping by nearly two-thirds in 2020.
What remains to be seen is whether he'll be able to keep the grift going post-presidency. Members of Congress, his administration, political supporters, special interests and foreign governments flocked to his properties in numbers never seen before. He also, over and over again, directed government spending to his properties, from his insistence on doing government business at Mar-a-Lago to Mike Pence staying at Doonbeg when he had meetings all the way on the other side of Ireland to his attempt to host the G-7 Conference at his struggling Trump National Doral property.
The argument could be made that Trump needed the presidency to keep his struggling business empire above water and the profits flowing into his pockets. The Trump Hotel in DC defied all expectations to quickly turn a profit despite charging well above most other DC hotels. People who wished to influence the president—lobbyists, politicians, foreign and state governments—paid a premium to see and be seen at the Trump Hotel, rubbing elbows with the president and his closest advisers. With Trump out of power, although threatening America with another run, it remains to be seen whether his businesses will still be seen as a new breed of corporate and foreign lobbying. In the wake of his attempted insurrection, many companies cut ties with his businesses. Only time will tell if that holds.
When Trump failed to separate himself from his businesses—and in fact used the presidency to increase his business earnings—he made it clear that his top priority was his personal profits. In that regard, the Trump administration was a ringing success.
However, as Trump constantly reminded us, he did donate his official yearly salary. All $400,000 of it.
Read More in Investigations