Jared and Ivanka made up to $640 million in the White House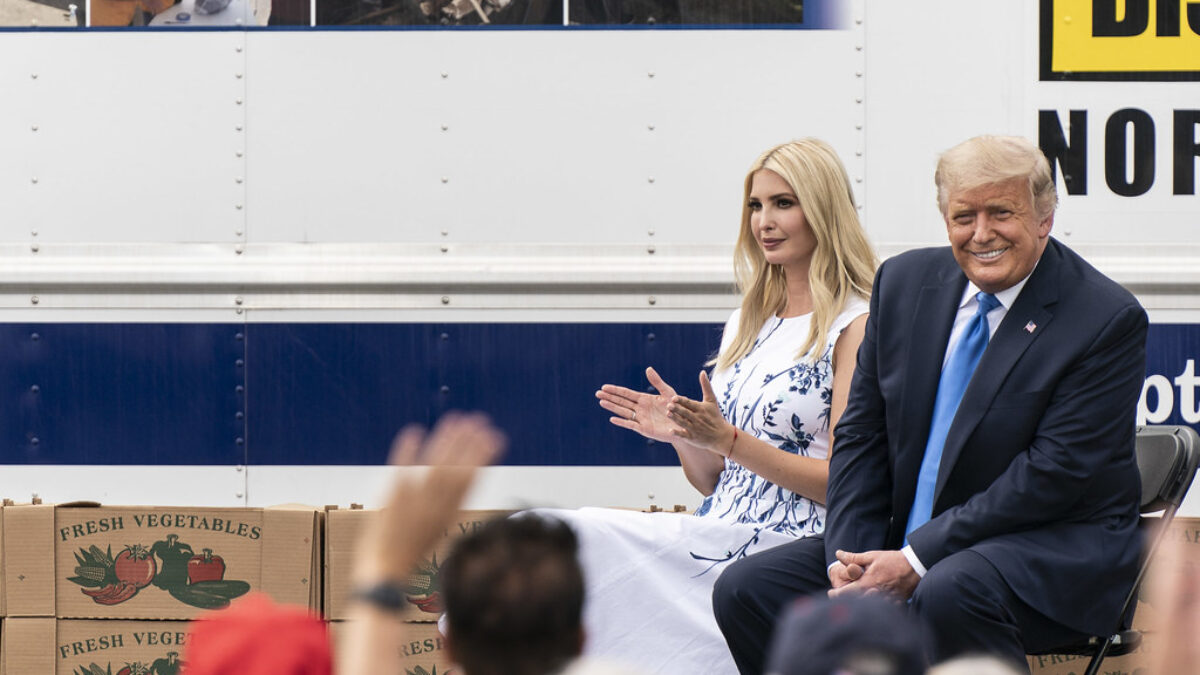 Jared Kushner and Ivanka Trump reported between $172 million and $640 million in outside income while working in the White House, according to an analysis of financial disclosures by CREW. It is impossible to tell the exact amount as the income is sometimes reported in broad ranges and cover four months of income before Ivanka Trump officially joined her father's administration and nearly one month before Jared Kushner joined.
Both Kushner and Trump announced they would not take a salary while working for the government in an attempt to shut down nepotism concerns. While their supporters marked this as a public sacrifice, the massive amount of money they made on the side undercuts that argument, as government salaries would have been less than 1% of their income.
One major factor in their outside profits came from Ivanka Trump's ownership stake in the Trump Hotel in DC, just blocks from the White House and the locus of influence peddling in the Trump administration. Before business slowed down due to the pandemic, the couple paid a combined 23 visits to the hotel. All told, Ivanka made more than $13 million from the hotel since 2017, dropping from about $4 million a year between 2017 and 2019 to about $1.5 million last year, at least in part due to the pandemic. On top of the drop in revenue, there's an unexplained drop in the value of her ownership. Having previously claimed it to be worth between $5 million and $25 million, in her final disclosure she listed it as only worth $100,000 to $250,000. She did not report selling any of her ownership share in the hotel.
The hotel was far from Ivanka Trump's only controversial source of income while working in the White House. In 2018, Ivanka announced she was shutting down her namesake brand, and she later filed a disclosure with the government that "[a]ll operations of the business ceased on July 31, 2018." But we discovered that she still made up to $1 million from it in 2019 despite the fact that she claimed it no longer existed.
While after four years it's still a little hard to tell what, exactly, Ivanka actually did in the White House, her tenure was still marked by repeated scandals revolving around potential conflicts of interest with her businesses. While dealing with foreign governments can raise obvious questions for the children of presidents, getting financial or other benefits from foreign governments while working as a senior staffer in your father's administration should be an obvious non-starter. But when it comes to Ivanka's time in the administration, getting foreign trademarks to use after leaving the White House may have been her biggest accomplishment.
Just a month before her father was elected president, Russia renewed two trademarks for Ivanka Trump's business. This would be the start of a pattern. In 2017, Ivanka's business won preliminary approval for three Chinese trademarks on the same day that she dined with Chinese President Xi Jinping at Mar-a-Lago. In May 2018, Ivanka's business was awarded "registration" approval from the Chinese government for five trademark applications, with an additional one getting "first trial approval." The same week, President Trump announced he would try to save jobs at ZTE, the Chinese telecommunications giant closely tied to the government. A month later, Ivanka's business got registration approval for three more Chinese trademarks, on the same day her father announced he'd lift sanctions against ZTE.
Ivanka's business applied for Japanese trademarks the day after her father won the presidency. They were approved around the time of Mike Pence's visit to Japan where he met with then-Prime Minister Abe. Ivanka also met with Abe, along with her father, about a week after her company applied for the trademarks. She won approval for additional Japanese trademarks in 2017.
In what would become the defining scandal of her time in office, in October 2018 Ivanka's brand won 16 new trademarks from the Chinese government, including for voting machines. These approvals came about three months after Ivanka announced that her brand was shutting down, and mark the largest number of new Chinese trademarks she received in a single month during the Trump presidency. Six months after the company officially shut down, it received a new trademark to sell the Ivanka brand in Canada. In all, CREW found at least 28 foreign trademarks approved for Ivanka Trump while in the White House.
While most of her work in the White House was fairly nebulous, we do know that she worked on the Trump administration's implementation of the Opportunity Zones program in 2018, apparently violating conflict of interest law in the process. At the same time that Ivanka was working on Opportunity Zones, Jared owned a significant financial stake in a company called Cadre which offers investment vehicles under the Opportunity Zones program. When Trump and Kushner entered the administration, Kushner's stake in Cadre was valued between $5 million and $25 million. The value would rise to $25 million to $50 million. Kushner originally failed to disclose his ownership in Cadre. Despite the fact that the top White House ethics official determined at one point that it was "reasonably necessary" for him to divest from Cadre in order to do his job at the White House, he never did.
Jared Kushner and Ivanka Trump should never have been allowed to work in the White House. The Department of Justice reversed decades of precedent to grant President Trump's wish to have his children work in the White House. While taking on enormous responsibilities that they were unqualified to carry out, and debasing their positions with constant ethics scandals, they likely made hundreds of millions of dollars from questionable sources. All that was waived off by the same nepotism that got them their jobs. Some "sacrifice."
Read More in Investigations