Enforcing the 14th Amendment: Frequently Asked Questions
On September 6, 2023, six Republican and unaffiliated Colorado voters, represented by CREW and local firms, brought a case challenging Donald Trump's eligibility for office. Below, we answer frequently asked questions about this historic case, the 14th Amendment, and its application to Trump.
Section 3 of the 14th Amendment was adopted after the Civil War to protect American democracy from those who sought to destroy it. It is also known as the Disqualification Clause, and it disqualifies from office anyone who swore an oath to support the Constitution as a federal or state officer and then engaged in insurrection or rebellion against it, unless Congress removes the disqualification by a two-thirds vote.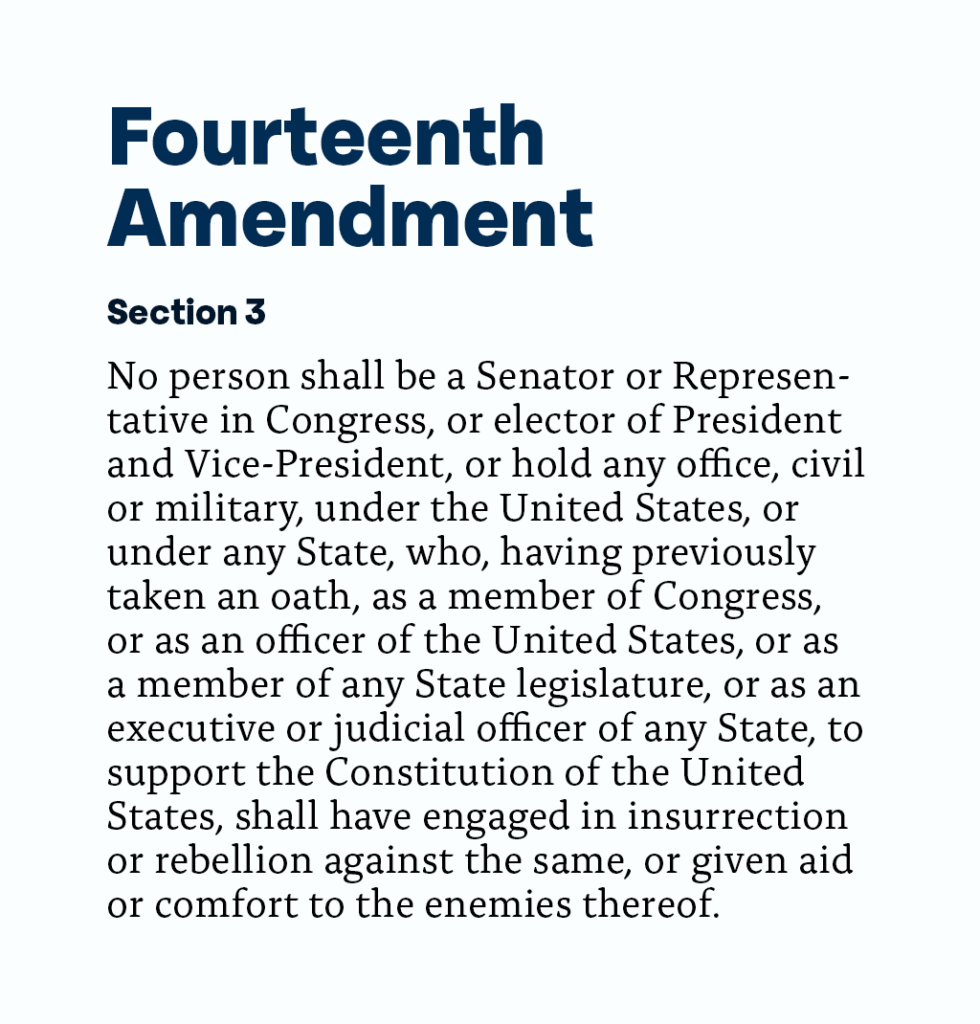 Anyone who swore an oath to the Constitution including as a member of Congress, an officer of the United States, a member of any state legislature, or an executive or judicial officer of any state is covered by the 14th Amendment. The president is included as "an officer of the United States" and many state officials are covered as well.
Those who swore an oath in any of those roles and then engaged in insurrection are barred from serving as a senator or representative in Congress, an elector for president or vice president, or from holding any office, civil or military, under either federal or state government. That means that disqualified insurrectionists may not serve in Congress, state legislatures, as judges, in the military, as president, nor in many other state and federal offices (for example, as a state attorney general or as a federal Cabinet secretary). On page 104 of The Sweep and Force of Section Three, constitutional law professors William Baude and Michael Stokes Paulsen go into detail about which offices are covered and address arguments that the president is not a covered officer, noting that those arguments rely on questionable parsing of phrasing and that "If the Presidency is not an office, nothing is."
According to Baude and Paulsen's article, "engaging in an insurrection" under Section 3 "is properly understood to embrace a broad range of willful participatory conduct," including:
"Deliberate acts in the nature of planning, promoting, encouraging, counseling, supporting, materially assisting, advancing, or facilitating activity or plots that can fairly be characterized, legally, as 'insurrection' or 'rebellion.'"

"In certain circumstances it might well include inaction supporting insurrection."

"Giving 'aid or comfort' to insurrection or rebellion arguably expands the range of acts of participation, support, and encouragement that qualify as triggering Section Three's disqualification."
Yes. At least eight public officials have been formally adjudicated to be disqualified and barred from public office since Section 3's ratification in 1868. After the Civil War, six officials who held office after serving the Confederacy were disqualified because they had taken an oath to protect the Constitution. In 1919, U.S. Representative from Wisconsin Victor L. Berger was disqualified from office after being convicted under Espionage Act, and being "disloyal to the United States, giving aid and comfort to a public enemy, [and for] publication of expressions hostile to the government."
The Disqualification Clause was not applied again until 2022, when a New Mexico judge ordered Otero County Commissioner Couy Griffin be removed and barred from public office for participating in the January 6, 2021 attack on the Capitol.
No. As the Griffin court explained, Section 3 imposes a qualification for office; it is not a criminal penalty and does not require a prior criminal conviction. Of the eight public officials who have been formally adjudicated to be disqualified under Section 3, none of them were ever charged with a violent crime and none of them were charged or convicted of insurrection.
No. First Amendment experts and federal judges have repeatedly recognized, in other contexts, that conduct leading up to and on January 6th was not protected by the First Amendment. In the Griffin case, leading First Amendment scholars submitted an amicus brief (which was cited by the court in its opinion), noting that a First Amendment defense to removal under the Disqualification Clause "ignores the fact that the drafters of the Clause possessed full knowledge of the First Amendment, yet provided no First Amendment defense to disqualification."
The brief referred to Griffin's argument that the First Amendment prohibited his disqualification as an "inherently implausible theory," noting that the Disqualification Clause "poses no threat to speech or expression protected by the First Amendment." Instead, the provision applies only to a "unique category of persons who assumed their positions voluntarily—namely, current and former officeholders who violated their oath—and it directly affects only their limited and qualified right to hold office."
Similarly, the Griffin court rejected arguments that Griffin's conduct on January 6th was constitutionally protected protest activity. The court cited an amicus brief from the NAACP State Conference of New Mexico in dismissing Griffin's attempts to compare the conduct of insurrectionists to that of Black Lives Matter protesters. The Griffin court also credited expert testimony explaining that "while some Black Lives Matter protests 'caused a lot of property damage', January 6th was an unprecedented use of 'violence and intimidation to 'affect the orderly transition of power' as mandated by federal law."
Baude and Paulsen also addressed this issue, writing:
"The First Amendment has long been held not to protect conspiracy to commit a crime or direct solicitation of unlawful activity, because this is 'speech integral to criminal conduct.' And while one must use some caution about unduly expanding this category, conspiracy and solicitation are at its core. Thus, efforts to steal elections, to pressure state officials to manufacture votes, to pressure other officials (like the Vice President) to violate their constitutional duties in service of a constitutional coup—would all be unprotected by the First Amendment. To the extent those efforts are swept up by Section Three, there would be no conflict."
There is no First Amendment right to stage a coup after swearing an oath on the Constitution.
Yes. More than 1,000 people have been charged for federal crimes by the Department of Justice including 10 convictions for seditious conspiracy, and Trump himself was recently indicted for multiple January 6th related charges, including conspiracy against rights and conspiracy to obstruct an official proceeding.
All three branches of the federal government have referred to the January 6th attack as an insurrection.
The Department of Justice under Trump's administration characterized January 6th as an "insurrection" in court filings. Since then, the DOJ has also brought charges and secured convictions of key players in the attack for "seditious conspiracy," a charge that closely tracks the definition of insurrection. President Trump's own impeachment lawyers stated that "everyone agrees" that there was "'a violent insurrection of the Capitol' on January 6th" and referred to the attackers as "insurrectionists."
The bipartisan U.S. House Select Committee to Investigate the January 6th Attack on the United States Capitol ("Select Committee") concluded in its final report that the January 6th attack was an insurrection within the meaning of the Fourteenth Amendment.
Also, in Griffin, the only decision yet to consider the question, a New Mexico state district court concluded "that the January 6, 2021 attack on the United States Capitol and the surrounding planning, mobilization, and incitement constituted an 'insurrection' within the meaning of Section Three of the Fourteenth Amendment."
In short, there is overwhelming consensus within the federal government, among experts and in courts that January 6th was an insurrection.
Yes. Just days after the attack, a bipartisan majority of the House of Representatives voted to impeach Trump for "incitement of insurrection." And after a trial in the Senate, a bipartisan majority of senators found Trump "guilty" of the same, though it fell short of the two-thirds supermajority threshold for conviction.
Trump spread knowingly false claims of a "stolen" and "rigged" election even after he exhausted legal challenges, the states certified his loss, and there was no lawful basis to contest the results. The lie propelled the "Stop the Steal" movement, which tried to exert pressure on Mike Pence and Congress to refuse to certify the presidential election results on January 6th, and summoned a violent mob of tens of thousands of his supporters to travel to Washington, D.C. for a "wild" protest on January 6th.
Once his mob was assembled, Trump incited them to "fight like hell" to overturn the election results by marching to the Capitol to "stop the steal," knowing that many were armed and prepared for violence. Even after learning the Capitol was under attack, Trump targeted Pence for lacking the "courage" to overturn the election in a tweet that measurably caused the mob to surge, then failed to act for nearly three hours as the insurrectionists ransacked the United States Capitol, brutally assaulted police officers, and called for the murder of elected officials. He chose not to deploy a federal response to protect the United States Capitol or call off his mob despite his constitutional duty to "take care that the laws be faithfully executed" and his role as Commander-in-Chief of the U.S. military, including the D.C. National Guard.
Trump incited, encouraged and aided the January 6th insurrection after losing the 2020 presidential election. Bipartisan majorities in the House and the Senate, multiple federal judges, and the bipartisan January 6th House Select Committee cited Trump as the insurrection's central cause. One hundred seventy-four defendants from 37 states who were charged for their participation in the January 6th insurrection have also said they were answering Donald Trump's calls when they traveled to Washington and joined the violent attack on the Capitol. The evidence that he engaged in insurrection and thus disqualified himself from office is overwhelming.
State election officials, such as Secretaries of State, have the authority to exclude ineligible candidates from the ballot, including candidates who don't meet constitutional qualifications for office such as Section 3. State attorneys general can bring quo warranto actions to remove state-level officeholders disqualified under Section 3. In some states, private citizens can bring a legal action challenging a candidate or officeholder's qualifications including through the ballot challenge process. Congress and state legislatures also have significant control over their own membership and may refuse to seat members-elect who fail to meet qualifications for office.
CREW and our co-counsel in Colorado represent six Republican and unaffiliated voters (plaintiffs) in Colorado, including a former Republican Member of Congress, a former Republican majority leader in the Colorado state senate, and a conservative media commentator.
The plaintiffs seek a court order declaring that, under Section 3 of the 14th Amendment, Trump is disqualified from holding future public office in the United States, absent an act of two-thirds of each house of Congress. Due to this constitutional disqualification, the plaintiffs ask the court to rule that Trump is ineligible under Colorado law to appear on any Colorado primary or general election ballot as a candidate for any federal or state office, and to bar the Colorado Secretary of State from listing Trump's name on the state's 2024 Republican presidential primary election ballot.
It is in the best interest of American democracy that both major political parties have presidential candidates who are constitutionally eligible to take office. Adjudicating Trump's eligibility for office prior to the primary election is therefore a matter of significant public interest that requires prompt resolution.
Because of the need for a resolution before primary ballots are printed, this case will hopefully proceed relatively quickly over the next few months. Not every state has the necessary statutory regime to bring viable challenges to enforce Section 3 against the former president or other insurrectionists, but Colorado will certainly not be the last state where such litigation is brought.